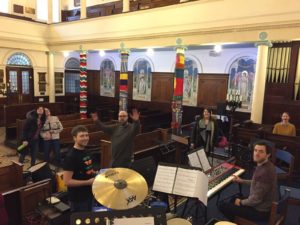 Loved working with my friends Workers Union Ensemble and Dr Chad Swanson (King's College London) on my newest piece The Virus Within: Hearing HIV. We premiered the piece on Thursday to a great crowd at Guy's Chapel, King's College London. Unfortunately the Southampton performance on 10 March has had to be cancelled but we will play at the University of Southampton Science and Engineering Day 2019 instead!
We asked the audience in London for five word reviews. Here are some of my favourites (!):
"Novel, exciting and inventive, complex piece"
"Head on crash with virus"
"Interesting but slightly anxiety inducing!"
"Brilliant translation: science to music. Thank you! One of the best pieces of scientific performance art I've ever seen/heard. Incredibly intellectually rewarding. Wonderful!"
"Top science/music mash-up"
"A structurally chaotic masterpiece!"
Recordings and video to come soon and, hopefully, more performances!