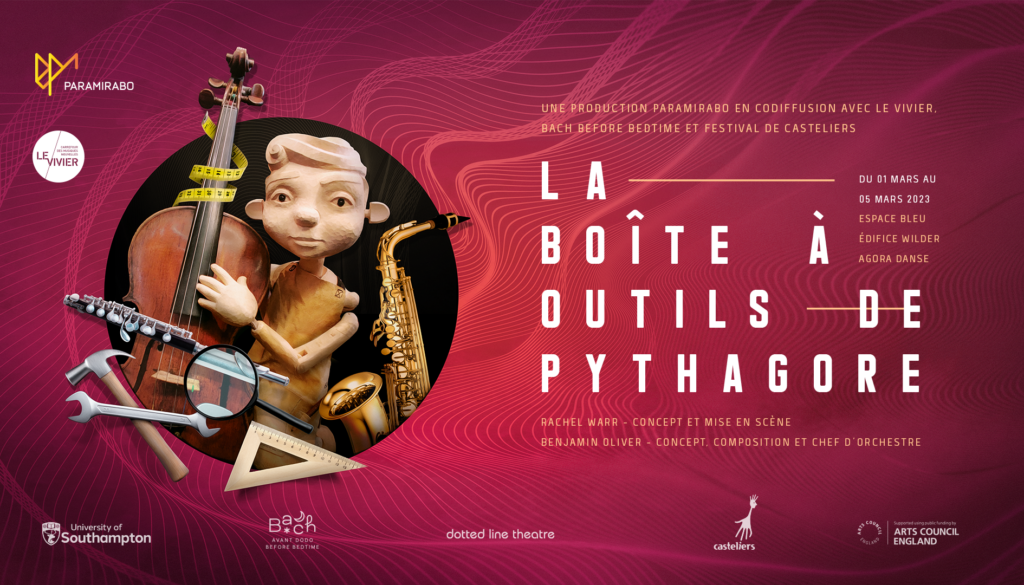 Pythagoras' Toolkit is a live theatre performance for young audiences and adults, with puppetry and live contemporary classical music. The show was premiered at Festival de Casteliers (Montreal) by Dotted Line Theatre and Ensemble Paramirabo, supported by Le Vivier, ach Before Bedtime and University of Southampton.
The show is inspired by the legend that Pythagoras was astonished by the sounds that blacksmiths made when they struck their pieces of metal: the sounds were rich, varied, sometimes harmonious, sometimes discordant. When he returned home, the Greek thinker hastened to explore sound and invent new instruments.
In this co-creation by Rachel Warr and Benjamin Oliver our hero, the modern-day Pythagoras, invites you to follow her in her playful, surreal musical experiments.
For booking information please contact:
Director (Dotted Line Theatre): Rachel Warr
Composer & Conductor (University of Southampton): Benjamin Oliver
Ensemble Paramirabo Artistic Director: Jeff Stonehouse